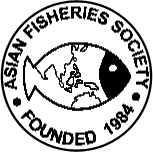 AsiaPacific-FishWatch delivers essential information on fish harvested or farmed for food in Asia-Pacific.
This online information is being developed by the Asian Fisheries Society and partners. It will grow to cover the main commodities produced in Asia and the Western and Central Pacific and Indian ocean areas. Asia-Pacific produces two-thirds of world fish.
AsiaPacific-FishWatch will contain information from the sea, river, lake or farm to the mouth and inform you about the whole supply chain, its people and operations. Our aim is to explain Asia-Pacific fish products for consumers, the general public, fish exporters and importers, development agencies, fisheries managers and scientists.
AsiaPacific-FishWatch contains the highest quality information available, and is reviewed by the top experts in each commodity and subject. It is non-partisan and does not engage in advocacy. In our content, we emphasize information relevant to sustainability and people in the supply chain.
AsiaPacific-FishWatch is being developed by a wide range of experts based in regional and national aquaculture and fisheries agencies and independent bodies.
We welcome your feedback so that we can improve the information we provide.